Eastern Municipal Water District
Tying Conservation Factors to the Model Water Efficient Landscape Ordinance
IEMWD currently has four default conservation factors. The conservation factor is the% of ET that is multiplied by the irrigated area to form the outdoor budget. The default conservation factor is reduced as different versions of the State Model Water Efficient Landscape Ordinance (MWELO) are implemented. For instance, new homes and landscape areas have a lower conservation factor. EMWD staff has the discretion to adjust conservation factors as needed to account for functional turf areas. Water budgets are calculated and submitted to EMWD prior to meter release to insure factors will meet the default values.
| Account Installation Date | Default Conservation Factor |
| --- | --- |
| Prior to September 1, 2008 | 1.0 |
| Prior to September 1, 2008 through December 31, 2010 | 0.8 |
| January 1, 2011 through May 31, 2015 | 0.7 |
| Starting June 1, 2015 | 0.5 |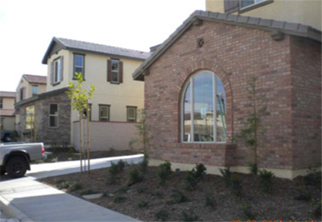 EMWD staff reviews residential budgets to make sure they are reasonable and will meet requirements. Information on the size of the irrigated area is also used for the customer's outdoor budget when water service is established. For larger landscape areas with dedicated meters, landscape plans are reviewed for compliance.
In most cases, ample time was allowed after the MWELO was updated to account for any projects grandfathered in under old standards. During the drought in 2015, EMWD was subject to a 28% demand reduction mandate. Under those conditions, it was believed that new development should be efficient as soon as possible. EMWD worked with cities, Riverside County, and builders to implement the new MWELO standards as quickly as possible. In some cases this required rechecks with the land agency and the home buyers sign off. The picture below shows an example of what new landscape looks like in EMWD's service area.